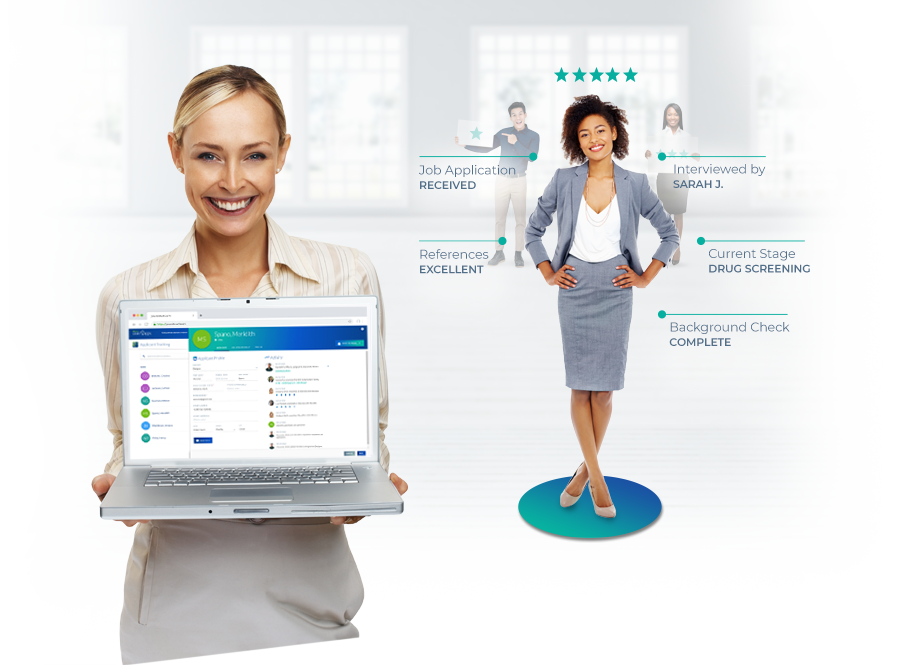 Applicant Tracking
Don't Let Five-Star
Candidates Slip Away
Today's job seekers have access to many online tools to apply for positions in a matter of minutes. With this speed and access influencing more applicants, your company can't afford a slow or uncoordinated hiring process. The Applicant Tracking Smart App can modernize your approach, so you and your managers can reach and recruit those five-star candidates quickly and affordably.
How it Works
Smart Hiring Made Simple: One Stage at a Time
It's easy for you and your hiring managers to track and collaborate on all the stages of hiring - or skip those that don't fit your business – all the way through to the employee's first day on the job. Here's how:
Create Open Positions

First, you'll need to create any open positions in your company to track applicants against. Any applicants not assigned to an open position will automatically be placed in a "General Consideration" category.

Enter the Applicant's Information

It's quick and easy to add an applicant, including their resume and other documents. Alternatively, if you receive applicants through the companion Job Application Smart App, no extra work is required.

Track Stages Relevant to Your Business

The app will guide you through the appropriate stages of hiring covering all the bases such as Interviews, Employment Testing, Reference Check, and more. If preferred, you can assign different stages to hiring managers and skip over the ones you don't need.

Welcome Your Perfect Candidate

Once you've made a decision, it's just a click to hire the candidate and send an offer email. You can even track beyond the offer up until the first day of work with tracking of offer acceptance, background check results, or create the employee's personnel record.
Feature Spotlight
Applicant Tracking Software for Small Businesses
Simplify Many Stages into a Single, Efficient Process
Tracking, organizing and evaluating many candidates for a few open positions across multiple decision-makers can be complex. Streamlining these myriad details into a single view - without being overwhelmed by it all - is crucial to hiring success. At a glance, anyone you assign can check on an applicant's status, review their progress, and be prepared for the next steps. It's a smart hiring process built to help you accelerate and make the best hiring decisions.
See the Complete Picture with Five-Star Ratings
You'll use a lot of criteria to assess individual candidates that can sometimes create a confusing jumble of pluses and minuses. Our five-star rating system makes it simple for you and your managers to rate their overall perceptions using a simplified and intuitive scale. The result is a complete and easy way to compare candidates and find your next five-star employee.
Clear Communication Bottlenecks
As the saying goes, you only have one chance to make a good first impression. The timeliness you display in communicating with potential candidates provides that opportunity to start off on the right foot. Automatic notifications let you and your hiring managers know when a stage is complete or when a task is awaiting response. When you're ready, you can easily reach out to the applicant at any time to schedule an interview, request additional information, or send them an offer.
Better Together
Our
Hiring
Smart Apps
Smart Hiring Begins Before the Interview
Don't Let Five-Star Candidates Slip Away