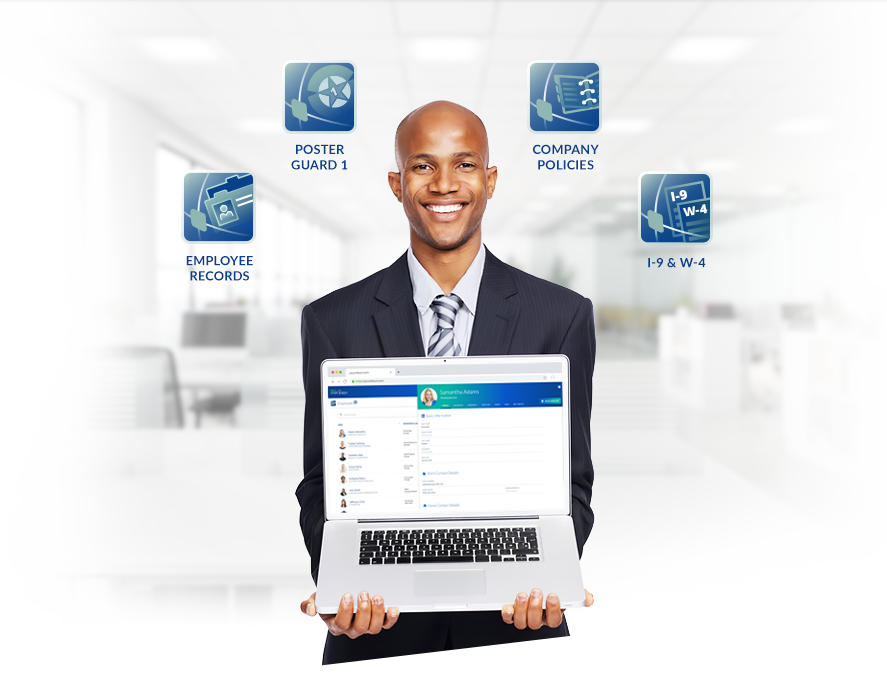 Manage Critical Compliance
Requirements in One Place
Welcome to a new breed of compliance software, designed to save you time, effort and, most important, keep your business on solid legal footing. Streamline processes, satisfy ever‑changing government requirements and ensure your business is fully compliant.
Better Together
The Compliance Smart
Apps Family
A Seamless Link
Free Employee Recordkeeping
Our web‑based HR apps are seamlessly integrated, so you never have to worry about duplication of data or effort. When you're ready to hire the first of many five‑star candidates, their employee personnel file will be created immediately in our Employee Records Smart App.
From there, you can manage their contact information, job details, emergency contacts, payroll details, healthcare coverage, and more.
Self-Service
Allow employees to access/update their own personnel records
Quickly Find
Filtering and search options help you quickly find employee information
Store Files
Keep all types of documents in one central location securely online
Customer Success
Why Customers Love HRdirect
Smart Apps
"We've used the HRdirect Paper Attendance Calendar for two years now and this is just so much easier with having four locations. The ability for the managers to handle their stores' employees is great. I've begun to get all our employees set up on it and giving our managers access to their employees … it's been a hit, they love it!"
Amanda Becerra
Central Wisconsin Auto Parts
"It has helped reduce the complexity of searching for employee's details and made updating the employee database an easy process. It has provided a tremendous way of keeping employee records in one place. Easier, better and time saving. The app has saved me tons of time spent retrieving staff records for use. All our employee records are just a click away."
Samuel Tomoloju
Kinsman Exchange Services Ltd.
"I'm very pleased with the Attendance Calendar, it has helped me keep track more efficiently than in the past. It's very easy to print out someone's calendar and share with a supervisor or the employee. No more keeping notebooks filled with attendance sheets."
Marianne Weikert
Geer Gas
"The Attendance Calendar has helped to automate a totally paper based system and makes it easier to provide detailed information to my employees with the click of a mouse."
Linda Pocock
International Metal Hose Company
"We are happy to have found an affordable and efficient way to track employee attendance. The Time and Attendance apps are easy to use and set up was a breeze."
Leana
Right at Home
Trust In The Experts
The HRdirect Difference
We aren't a software company – though we have been developing HR software for more than 25 years. As HRdirect, we have been delivering "Solutions for Smart Employers" such as forms and compliance products for small businesses since 1985.
Compliance Expertise
Our in-house attorneys, legal researchers and HR experts strive to ensure our apps meet compliance requirements and best practices.
Experienced Customer Support
Our customer success team is here to answer your questions and ensure you get the best value from the solutions you select.
3 Levels of Security
We maintain the highest business standards and certifications for database hosting and backups, user access and data encryption.