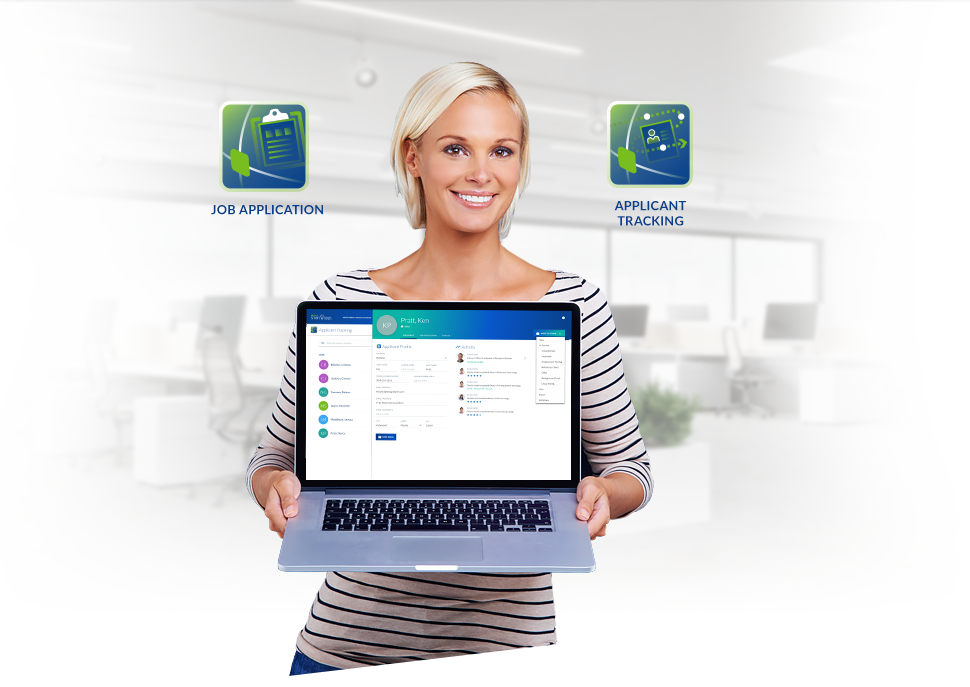 Take Your Hiring Efforts
to the Next Level
Welcome to a new breed of hiring software, built for your business and budget. Expand your reach, get more organized, and find your next five-star employee.
Better Together
The Hiring Smart Apps Family
Job Application
Create & Customize
Compliant Job Applications
Instantly receive a state-compliant job application
Choose from a library of attorney-approved questions
Print or publish an online link for candidates to apply to
Save and organize applications, cover letters, and more
Applicant Tracking
Track & Evaluate
Your Candidates
Create and track your open positions
Assign hiring managers to follow-up with applicants
Securely store resumes and other documents
Rate and review candidates to find your five-star hire
A Seamless Link
Free Employee Recordkeeping
Our web-based HR apps are seamlessly integrated, so you never have to worry about duplication of data or effort. When you're ready to hire the first of many five-star candidates, their employee personnel file will be created immediately in our Employee Records Smart App.
From there, you can manage their contact information, job details, emergency contacts, payroll details, healthcare coverage, and more.
Source Candidates
Post your application online or print copies for in-person applicants
Peace of Mind
Knowing your hiring process is compliant with state and federal laws
Track Candidates
Easily know where each candidate stands in the hiring process
Customer Success
Why Customers Love HRdirect
Smart Apps
"We had been looking for an applicant tracking system for almost a year. Most of the systems that we looked at were costly, had more features than we would ever use, and were not user friendly. For a small business, where each staff member wears multiple hats, we needed a system that was easy to use and we were not charged for a lot of features that we didn't need."
Charlotte Boyce
Comprehensive Medical Staffing
"It has helped reduce the complexity of searching for employee's details and made updating the employee database an easy process. It has provided a tremendous way of keeping employee records in one place. Easier, better and time saving. The app has saved me tons of time spent retrieving staff records for use. All our employee records are just a click away."
Samuel Tomoloju
Kinsman Exchange Services Ltd.
Trust In The Experts
The HRdirect Difference
We aren't a software company – though we have been developing HR software for more than 25 years. As HRdirect, we have been delivering "Solutions for Smart Employers" such as forms and compliance products for small businesses since 1985.
Compliance Expertise
Our in-house attorneys, legal researchers and HR experts strive to ensure our apps meet compliance requirements and best practices.
Experienced Customer Support
Our customer success team is here to answer your questions and ensure you get the best value from the solutions you select.
3 Levels of Security
We maintain the highest business standards and certifications for database hosting and backups, user access and data encryption.