Employers today face a deluge of ever-changing labor law regulations at the federal, state and local level, making compliance a daunting task.
Our newest online solution, the Poster Guard 1 Smart App, gets you in full compliance with the mandatory workplace postings for your company and specific location. You'll receive the necessary laminated posters, shipped right to your door whenever regulations change.
The app was inspired by Poster Guard® Compliance Protection, the premier posting compliance service from our ComplyRight family of brands. Drawing from the experience and expertise of this reputable, nationally recognized service, the Poster Guard 1 app is refined and "right-sized" to meet the needs of your smaller, single-site business.
Why Labor Law Compliance Matters
Every U.S. business with at least one employee is required to display labor law posters. Depending on the state you conduct business, this could involve dozens of postings. For example, In California, you're required to display 21 postings – six federal and 15 state – if you have more than 50 employees. Add up to nine additional local postings if you're in a city like San Francisco, and you're looking at a total of 30 postings. There isn't a one-stop government resource for these postings, and the government won't notify you when postings change (which they do frequently).
As the complexity and unpredictability of posting requirements continue to grow, maintaining compliance can be overwhelming for small businesses. But it's a responsibility that can't be ignored, largely due to the risk of government fines or, worse, exposure to staggering damages in an employment lawsuit.
Poster Guard 1 is the answer! The app is modeled after the leading labor law compliance service, Poster Guard® Compliance Protection, from our parent company, ComplyRight. Backed by more than 25 years of industry experience, Poster Guard Compliance Protection provides 329,000+ services and has issued more than 1 million poster replacements since 2014.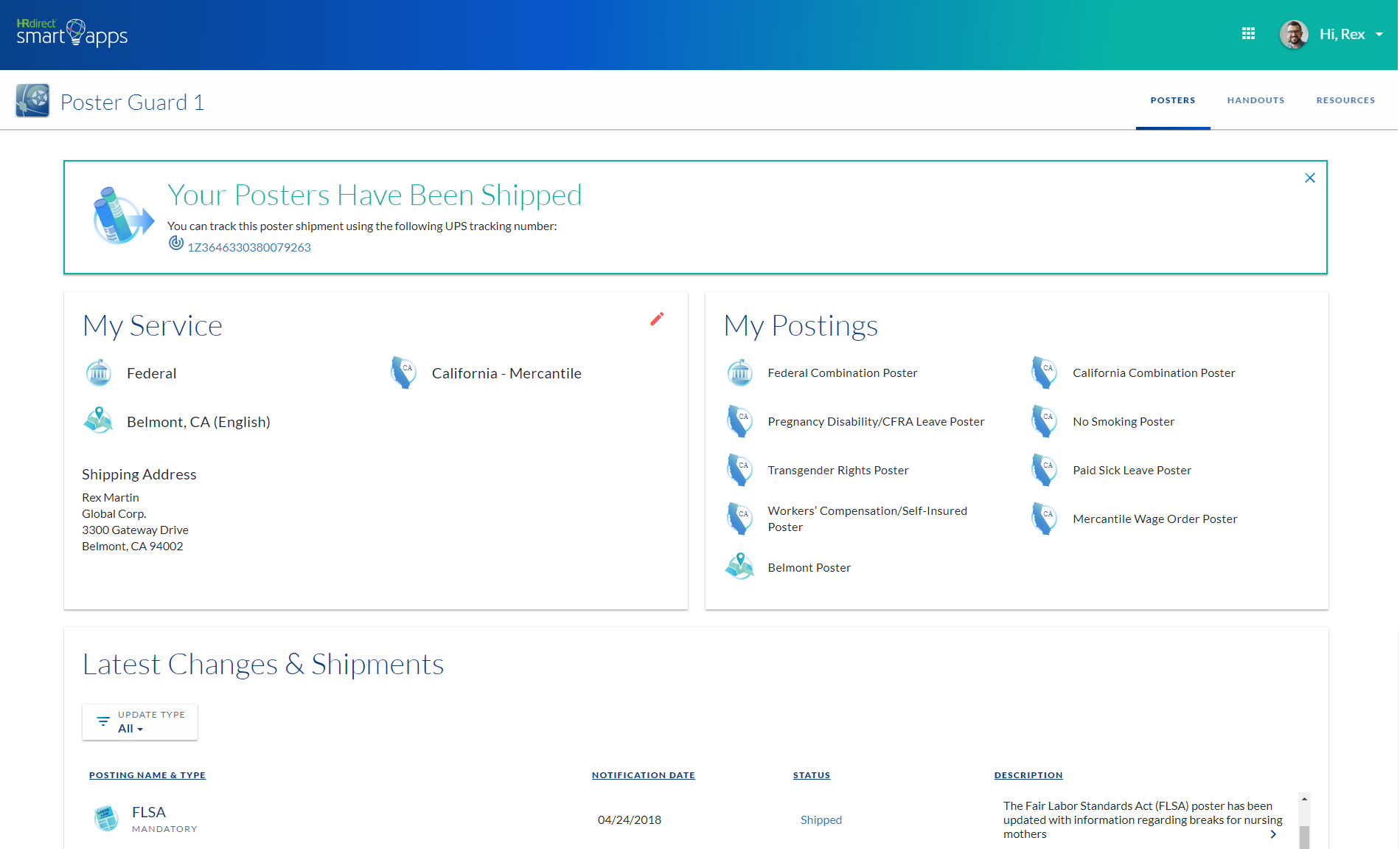 Mirroring the expertise and credibility of this national service, Poster Guard 1 is a small business resource featuring:
Initial poster set that includes all of the posters for your specific business location (federal, state AND local)
In-house legal team that monitors all regulatory agencies and posting changes to ensure full compliance
100% compliance guarantee against posting fines
Free poster replacements shipped directly to your business whenever mandatory changes occur
Email notification of poster shipments, as well as mandatory or non-mandatory changes
Around-the-clock access to account information, such as shipment tracking, delivery verification and detailed posting instructions
PLUS, mandatory handouts informing employees of their rights – simply download, print and distribute
Although the Poster Guard 1 app was inspired by Poster Guard Compliance Protection, it differs in a few key ways. It's designed to address the needs of a single-site location. Your posting activity is visible from a centralized dashboard, and you only see the mandatory and non-mandatory updates that impact your business. Additionally, Poster Guard 1 customers can view and print on demand any required employee handouts.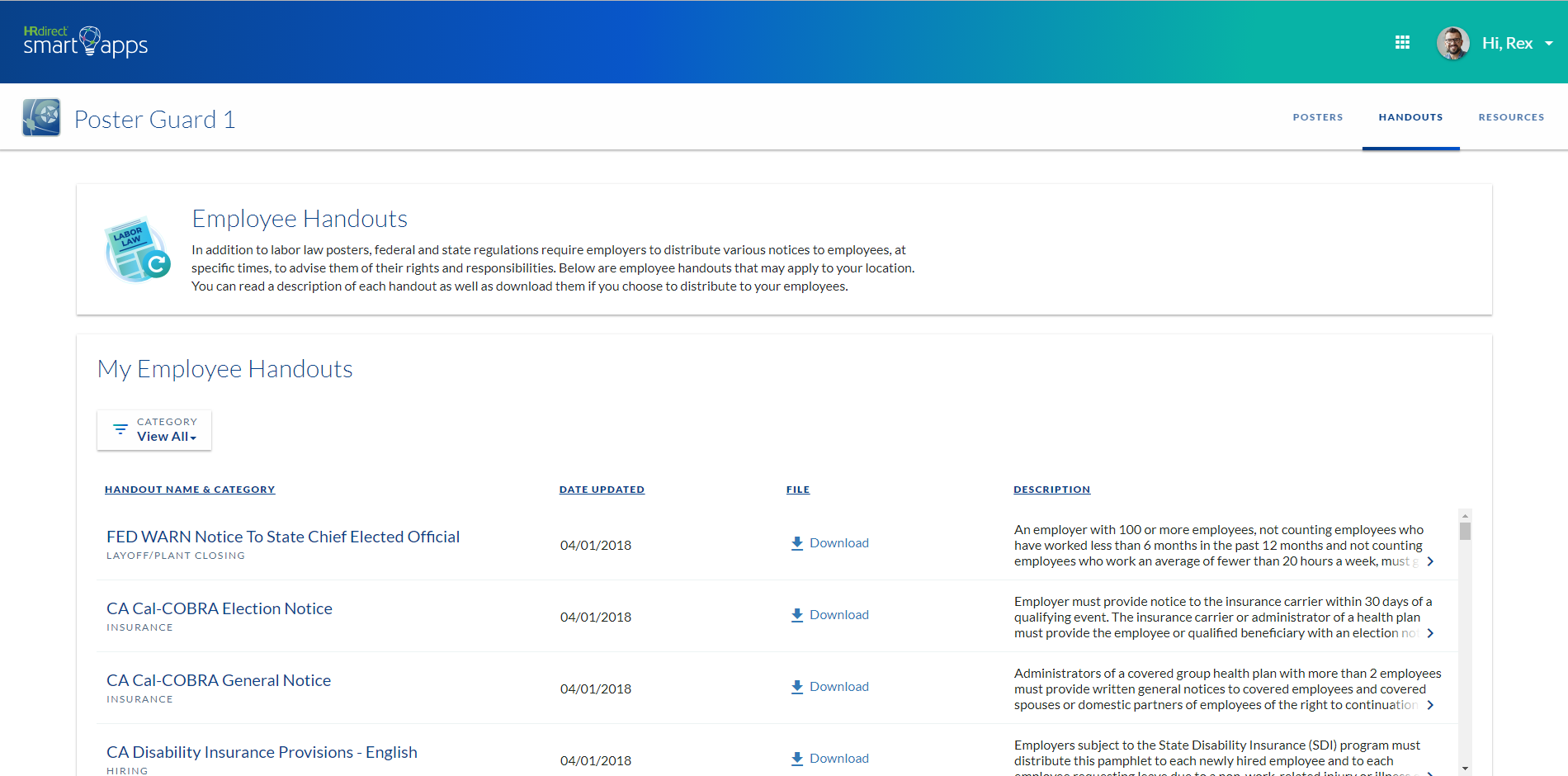 A Full-Time Legal Team Working on Your Behalf
The value of Poster Guard 1 being backed by an in-house legal team cannot be overstated. Together, we have more than 50 years of dedicated experience understanding and protecting businesses like yours. We pay close attention to the complexities of employment law compliance and interpret the requirements to make it easier for you to comply.
Keep in mind, too, that other compliance services may overlook the full range of requirements affecting your location, particularly at the local level. In the past few years alone, local regulations have outpaced the rate of change federally and state-wide. We keep a close eye on agencies at every level, including more than 20,000 cities and counties.
Keeping You Current with Changing Labor Law Postings
As with all HRdirect Smart Apps, Poster Guard 1 is sized right for your business. We spare you from sifting through mountains of regulations and interpreting which requirements apply. Poster Guard 1 consolidates your labor law requirements in a single app, providing everything you need, when you need it.