In the world of product development, brand-new isn't always best. Sometimes identifying the strengths with something — and tweaking it to meet growing needs — is a bigger win.
Take our new Attendance Calendar Smart App. For more than 30 years, thousands of businesses have relied on our paper Attendance Calendar cards to keep track of who's on the job and who's called in sick three days in a row. Inspired by that top-selling form, we've created a Web-based application that uses a similar approach to tracking time-off, but with a modern upgrade. Though the app offers the same simple coding system to record day-to-day absences, it also provides a level of ease and convenience that sets it apart. As a result, shifting from paper to electronic attendance tracking is effortless — and the right move for forward-thinking, cost-conscious businesses.
Why Businesses Can't Afford to Overlook Employee Absenteeism
Most employers know the frustration of dealing with employees who are frequently calling out sick or running late. But the situation is more than frustrating: it's costly. In HRdirect's recent survey, the Impact of Absenteeism on Small Businesses in the US survey, over 20% of small business respondents said their annual cost of employee absenteeism is $3,000+ per employee.
That's where daily attendance tracking comes in. By documenting missed days, tardies and other absences, employers can spot — and ultimately address — troubling attendance patterns. No more guessing when or why employee attendance (and performance) started dropping. The on-screen presentation reveals "red flags" right away, which is a vital first step to curbing excessive absenteeism.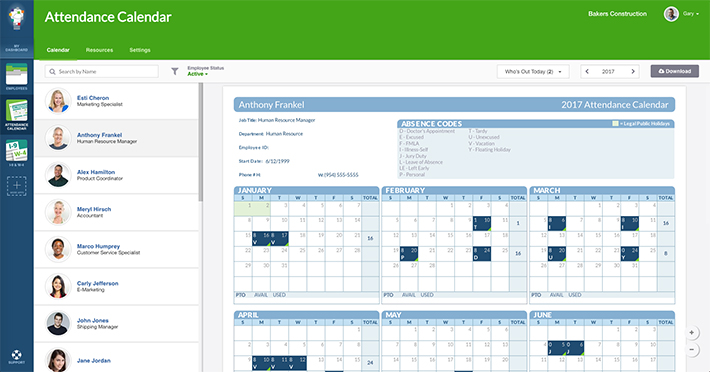 Like a traditional paper calendar, the Attendance Calendar app uses a simple, straightforward coding system to document excused and unexcused absences. But from there, it offers a host of conveniences only possible through online software.
Gone are the days of rifling through file cabinets to find the right folder or employee form, and writing in codes (and other notes) manually. Say goodbye, too, to messy or unreadable forms from all of the cross-outs and changes.
With the Attendance Calendar app, a supervisor can access information any time, anywhere there's Internet access. Tracking is as easy as 1, 2, 3:
Select an employee
Click directly on the calendar day
Choose a preset absence code from the drop-down list (with the option to enter the amount of time taken and any important notes)
Everything is done electronically, so it's a breeze to edit and delete absences. Best of all, days with absences are shaded for rapid identification. With this attendance-related documentation at their fingertips, supervisors are better equipped to discuss issues with employees, or even take disciplinary action. Here's a closer look at how the Attendance Calendar app works, and why it's a more robust alternative to paper forms:
At-a-glance, single-spread presentation
Efficient, one-page view that displays attendance records for an entire year
Multi-functional recordkeeping covering absences, as well as PTO, vacation or sick time balances
Quick detection of troubling attendance patterns
Pre-set and customizable absence codes
Simple coding system with preset codes indicating reasons for absences, ensuring a fair and consistent approach for all employees
Option to create customizable absence codes

Simplified time-off bank recording and maintenance

Option to categorize time-off bank as PTO, vacation or sick time, depending on the needs of the business
Trouble-free maintenance that only takes seconds to manage daily or weekly

Reliable, paperless recordkeeping and retention

One-click download to print a back-up copy for sharing, or to print unlimited blank copies
Ability to grant permissions so only approved supervisors can view or edit records
Secure storage in the cloud, versus paper files that can fall into the wrong hands
Easy Attendance Tracking and Control Is Within Reach
What employer doesn't want to keep a close eye on daily employee attendance and protect their bottom line? The Attendance Calendar Smart App delivers on this and more. For one affordable price, businesses can track attendance online with simplicity.