Sure, you recognize the value of clear, concise workplace policies. But do you know which policies are "must haves" and which are "good to haves"? What is the legal language you must include – and how do you get the policies in everyone's hands? The
new Company Policies Smart App
provides an affordable electronic solution for small businesses to create and implement workplace policies. For 20+ years, over 800 customers have relied on
HRdirect's Gradience Handbook Manager
to pull together a comprehensive policy manual. Building from this product, our latest Smart App offers many of the same desirable features, such as state-specific policies, mandatory and best-practice policy recommendations, edit functionality and automatic updates. Unlike Gradience desktop-installed software (which can only be used from a specific computer), the Company Policies app is cloud based and accessible from anywhere with an Internet connection. In addition, employees can log in and view policies at any time, providing a paper-free option to printing and manually distributing policies. Furthermore, it provides confirmation when employees have received and reviewed policies.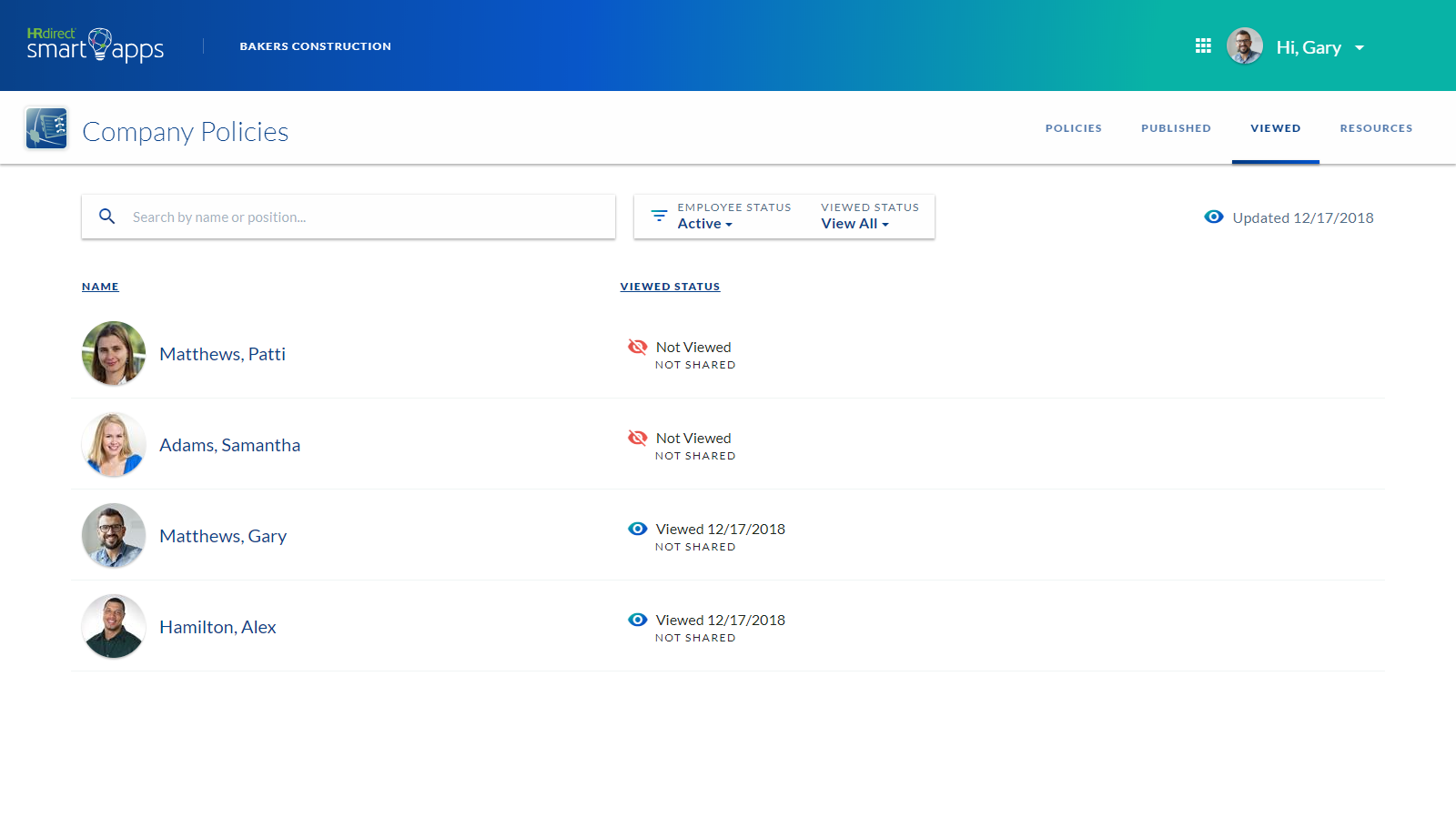 Ultimately, the Company Policies app lets you move your policy process to the cloud for maximum efficiency and convenience.
Well-defined employee policies can outline important workplace rules, prevent disputes and protect your business from potential lawsuits.
Backed by an Experienced Legal Team
The foundation of a quality company policies app are the policies themselves. Each of the policies is attorney-developed and approved to meet strict federal and state requirements. In addition, you'll receive notifications of any automatic updates to your policies, which you can, in turn, share with employees. This level of attention and communication ensures you're always aware, up to date and fully compliant. How does the app work? Simply follow the on-screen prompts to select the necessary and/or recommended policies, based on your state. Designed for small business needs, available policies cover a range of workplace issues, such as:
Attendance
Americans with Disabilities Act (ADA)
Discipline
Meals and breaks
Harassment and discrimination
Military leave
Wages and overtime
Thanks to the app's streamlined design and practical instructions, you can compile and share policies in a few easy steps.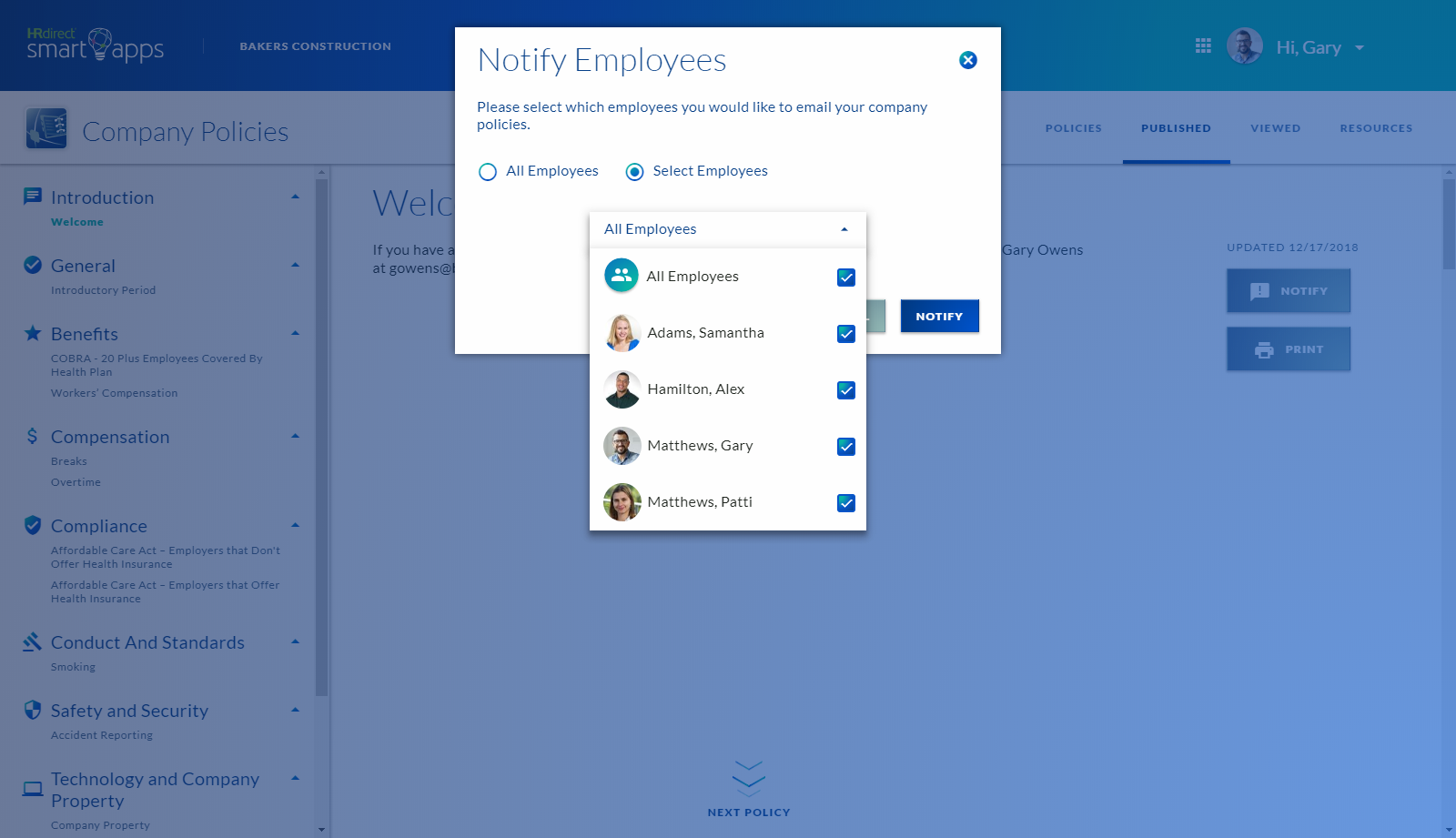 The app allows you to:
Make company-specific edits to provided policy templates
Create multiple versions of the same policy (such as Casual and Business Dress Code Policy)
Store all selected policies along with any edits made in an unpublished status
Notify all or select employees via email to review your policies
Electronically track receipt of policies (including the dates they were sent and viewed)
View a grid of employees who have been sent policies, the date policies were sent and date viewed
Print and distribute policies, if preferred
Upload and store manually signed policies acknowledgment forms to the Employee Records app
Combined, these features make it easy to implement policies within your company as needed, using a paperless process. Just as important, the app acts as a reputable compliance resource, ensuring you're current with the latest federal and state regulations affecting your workplace.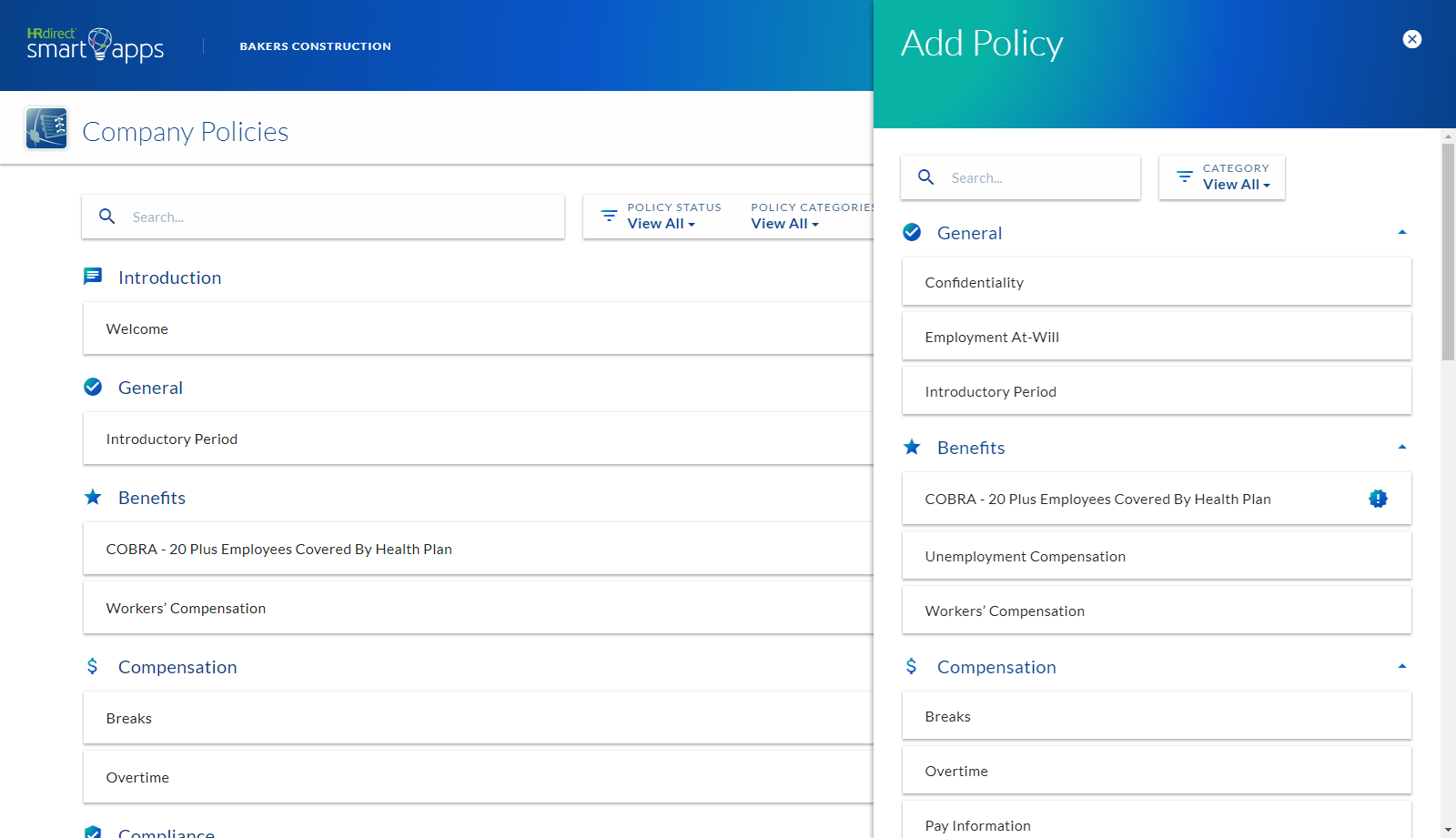 Put Policy Confusion and Paperwork Behind You
The
new Company Policies Smart App
lets you confidently set and maintain the right tone at your company while also improving accountability. For time-strapped businesses looking for guidance, the app is a practical, online tool for creating, communicating and maintaining company policies. Plus, it's simple to use, provides 100% compliant templates, and budget-friendly.