In an ideal world, employees would always work at peak performance — and they'd never break the rules. But we know that's not realistic. At some point in their careers, most managers must deal with employee misconduct, poor performance, policy violations and other troublesome issues. And, as with most employee-management responsibilities, this involves careful documentation and intervention.
The new Progressive Discipline Smart App allows employers to document and address employee issues promptly and appropriately. It helps them gather key details for constructive conversations with employees, as well as create a history of repeat offenses. Nearly 5,000 HRdirect customers have relied on our discipline and warning forms for more than 20 years — and now they can move those forms online and enjoy a more streamlined and organized process.
Legal and Practical Support Throughout the Process
Documenting disciplinary issues serves a vital purpose: It holds employees accountable to company standards, as well as their specific job duties. At the same time, it protects employers if a disgruntled worker ever takes legal action against them. Only with careful documentation can a business justify a disciplinary decision or termination in a dispute. Now, thanks to the evolution of HRdirect's paper warning and discipline forms to the online Progressive Discipline app, busy employers can handle this essential documentation faster and smarter than ever before.
By recording all incidents consistently, managers and supervisors are more apt to treat employees equally and fairly — another important legal protection. And unlike other progressive discipline tools on the market, our attorney-approved app promotes employee discussion as a critical part of the discipline process. By completing each part of the Employee Warning Notice, managers will be better prepared for meaningful employee discussions. They'll have all the pertinent details at their fingertips for a thoughtful and productive exchange, which can be a critical first step toward positive change.
Finally, true to the "Progressive Discipline" name, the app captures repeat or escalating offenses (and the actions taken) for a complete recorded history.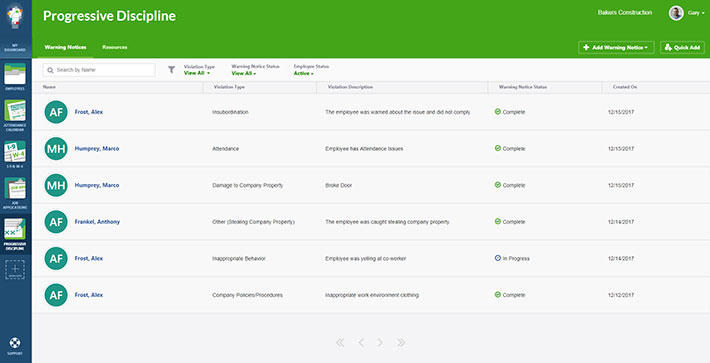 Building on this solid legal foundation, the online app offers many practical, timesaving features today's managers will appreciate.
Choose from pre-set or customizable settings
Select a specific violation or write in your own in the "other" field
Choose an action to be taken in response to the violation
Describe the violation and record the date and time of the incident
Record the date of the discussion, as well as the name of the witness present
Review the discipline history for any selected employee
Save time through an efficient and flexible experience
Save any work in progress and return to it later, until complete
Print out blank forms for offline use and to distribute to managers, as needed
Print a copy of the employee warning to share in the review meeting and to capture employee signature and date
Develop a disciplinary program best suited to the business
Link repeat offenses to create a recorded history and better track ongoing problems
Establish which managers or supervisors can view and/or create violation reports
Upload related documents and store them securely in a centralized location
Document and Communicate Employee Issues More Effectively
Although dealing with employee issues is never easy, the Progressive Discipline Smart App helps employers do it the right way. It ensures consistency, creates an essential paper trail and, most important, protects businesses from possible legal disputes.