By now, you've probably noticed a clear theme with our Smart Apps: a typically time-consuming and paper-intensive process is transformed with an easy-to-use online solution. The latest addition to the family of Smart Apps, the Time Off Request app, is no exception.
This new app is a simple and affordable way to capture and oversee the flurry of time-off requests businesses manage week after week — all in a single glance. Employers can eliminate the trail of emails, texts and handwritten notes and, instead, handle time off requests electronically. A consistent, step-by-step workflow allows employees to make requests directly within the app, followed by supervisors and managers approving or denying the requests. An organized, on-screen visibility lets managers view and filter multiple time-off requests to make the most informed staffing decisions. Just as important, the app reduces some of the compliance complexities related to granting employee time off, due to the practical guidance in the Resources section.
Plus, like many of our other apps that were inspired by existing, top-selling paper forms, the Time Off Request App offers the best of both worlds. Customers will appreciate the familiar, straightforward functionality of the Time Off Request & Approval form (which we've sold to nearly 4,000 customers in the past 30 years), combined with relevant and value-added features only available through software.
Enjoy a Consolidated, All-in-One Request and Approval Process
Many businesses lack a formal or reliable method for managing time-off requests. They deal with the constant interruptions from employees, jotting down reminders on sticky notes or a desk blotter, or attempting to maintain a spreadsheet. Or worst, they rely on their memory regarding earlier time-off conversations, with no written documentation. In fact, in our recent Small Business in the U.S. and Time Off Requests survey, more than 30% of the 300+ respondents consider "remembering when an employee will be out" to be their biggest pain point.
Employees can easily request and track their time off online. Through a personal, secure account they can:
Enter the number of hours they'd like off, and the reason for the request
View their time off history on a dashboard, as an option
Cancel or edit a pending request
Choose the time-off bank used, depending on the employer's setup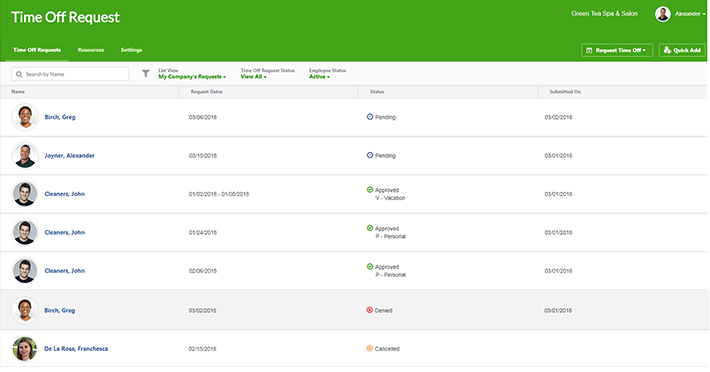 Communication between supervisors/managers and their employees is simpler and more organized. Supervisors or managers can:
Approve or deny pending requests from all employees they oversee
Add shared or private comments to their responses
View all requests in a single screen, filtered by status, date submitted or date requested
Receive email notifications when an employee submits a request
Be assured the employee receives an immediate, automated email notification of the request approval or denial, including optional comments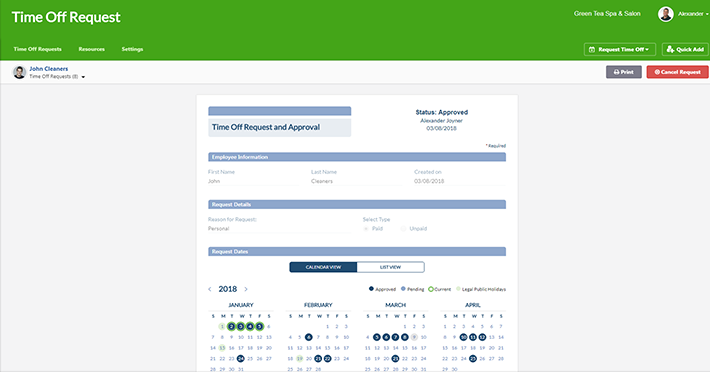 Integrates with other Smart Apps and offline activities for total flexibility. Employers can:
Have approved requests appear in their Attendance Calendar app, if applicable
See prepopulated employee information from the Employee Records app when a request is opened
Print and distribute blank paper request forms to employees without email addresses or access to a computer
Enter completed paper request formsquest
Download and print selected time-off requests
Within the app itself, a handful of specific features set this updated, electronic solution apart from traditional paper forms. They include:
Calendar view — Shows the current request, along with all pending and approved requests. Users can toggle between years on a single form, unlike the paper form that only covers a specific year.
List view — After clicking on a day in the calendar view, employees are taken to a list view to select the end date for the request, along with the time to be taken each day. They can "deselect" days in a date range (example: requesting Wednesday through Wednesday but don't work Saturday or Sunday.)
Absence code synchronicity — Depending on how they track time off and absences, employers can set up a matching absence code list for both the Time Off Request and Attendance Calendar apps. That way, when a request is approved, the coded absence will automatically appear in the Attendance Calendar app.
Who's out during a request — Indicates all employees with pending and approved requests in the same timeframe of an incoming request to help managers maintain proper staffing.
Built-in workflow — The entire process is extremely simple! Request submitted => email notification sent to manager => manager clicks on link in email => manager approves or denies the on-screen request => employee receives an email notification of manager's decision.
It's Time to Handle Time Off Requests a New, Easier Way
Managing time-off requests doesn't have to be a frustrating burden. With the new Time Off Request Smart App, you can end the back-and-forth confusion and approve or deny requests with a single click. The app takes care of the rest. It's like taking a vacation from the everyday drain!