Digital filing system. Office automation. Cloud-based administration process. Although the terms sound rather technical, the objective is quite simple: an updated, ultra-efficient, paperless business. There are various ways to go about it, but before you can put paper behind you, you need to know if it's a good idea for your business. Here are the key questions to ask yourself:
1) Are you and your supervisors buried in piles of paper documents and folders?
This is a matter of volume. If you're feeling overwhelmed by a seemingly endless flow of paper, it's time to look for options. It's one thing to manage paper if you're a start-up business of one or two partners but quite another if you're a growing business with a full staff.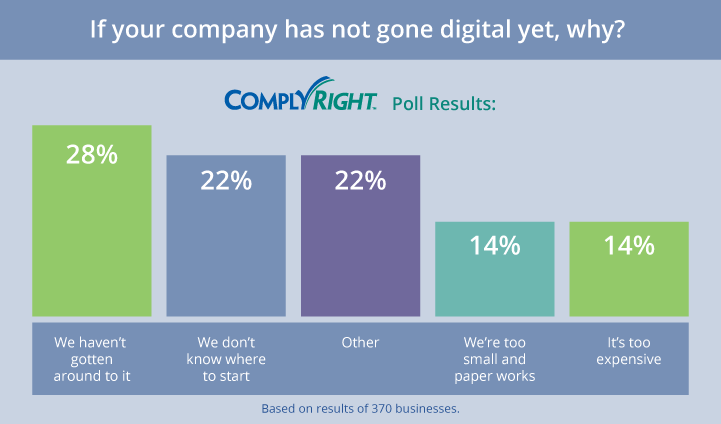 2) Are you wasting precious time hunting down lost or misplaced documents?
For all of the times you've spun your wheels looking for a specific file or folder (or even a handwritten note), you could be crossing more pressing items off your to-do list. Add up all those time-draining sessions from day to week to month, and it's easy to see paperwork's impact on workplace productivity.
3) Is there a lack of coordination between different teams or departments in your workplace?
Old-fashioned paper documents — and even email — aren't the quickest or easiest ways to distribute information. Placing important documents in the cloud makes them accessible to permitted individuals, any time, anywhere.
4) Are your critical documents exposed to potential theft or damage?
Retaining documents in the cloud offers a higher level of security than physical files stashed in a cabinet or office, where they're vulnerable to prying eyes, hands, fire, flooding and natural disasters. Important data is encrypted, password-protected and shielded from internal and external threats. After you've answered the above questions, the decision may be clear. Digitizing your employee's personnel records can address your biggest paperwork concerns, while providing a slew of additional advantages:
Documents are centrally located, quickly retrievable and always at your fingertips
Seamless integration and ability to share records for smoother workflow
Audit trails show who last used an electronic file for better tracking and coordination
No need for long-term physical storage, with around-the-clock protection from fire, floods and other threats
But if digitizing all your files feels like too much too soon, you may want to ease into it. You can enhance workplace efficiencies with a document- management system that addresses the following:
The creation of documents — Establish some guidelines on what key documents should include, and how they should appear. Professional templates, standard forms and an in-house style guide can help in this area.
The filing of documents — In addition to setting up a consistent naming convention for current files and folders, examine your paperwork at least once a year to clean it up and weed out old files.
The storage of documents — Until you can take full advantage of cloud storage for ultimate security, you'll want take precautions with physical storage of non-digital files – from locking cabinets and offices to backing up computer files regularly and maintaining a secondary backup, ideally off site.
It's a smart business practice, too, to include a records policy in your employee handbook. A thorough policy should explain the types of records maintained in personnel files, the retention timeframes to satisfy federal requirements, and how records are stored to protect sensitive or confidential information.

It is estimated that
companies spend
$20 in labor to file a document, $120 in labor to find a misfiled document and $220 in labor to reproduce a lost document.
A Better Recordkeeping System Is Within Reach
When you're ready to take it to the next level and move your recordkeeping online, we can help. Start with our FREE Employee Records Smart App, which lets you consolidate employee information at your own pace, for immediate use with your current business practices. Then, as you get more comfortable with the process, you can go digital with other HR and employee-management tasks, such as tracking employee attendance, hiring new employees and disciplining current employees. Your Employee Records app provides a seamless link that lets you connect to other HRdirect Smart Apps as your needs grow. Still not certain if HR software is right for you? Check out this quick quiz to help you decide.
Key Takeaways
A digital filing system is a method for automating and managing paperwork.
Traditional paper filing is often time-consuming and inefficient.
Cloud storage of important data is more secure than physical storage.
By electronically filing their employee's personnel records, employers can better organize and maintain essential data.